| | |
| --- | --- |
| | Please don't wear this item excessively.This item is worn by preps. You are allowed to wear this only for 6 hours in this army. |
Makeup (also known as Eyelashes) is a face item worn by preps. It changes the look of their eyes.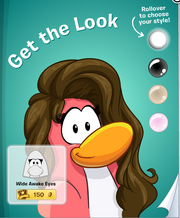 Makeup is always available, ever since February 2013.

In the august 2015 Penguin Style Catalog, Club Penguin released more makeup items for the Fashion Festival 2015.

Making this item is an act of supporting preps according to The Corporation Theory.
There are many other variants of makeup that were temporarily available.
Many Preps who don't have Diva Glasses or new preps often wear makeup.

However, Most preps prefer Diva Glasses since makeup doesn't look good in-game (it looks like a unibrow.)

The main eyelashes that are always available are: Starlet Eyes, Diva Glam Eyes, Wide Awake Eyes and the Kitty Cat Eyes.
Some people criticize this item since it looks like a unibrow in-game.
Dot also wears makeup.